Dear Doctor Khalsa,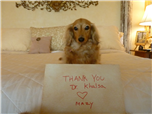 We cannot Thank You enough for your expertise in finally resolving 9 years of terrible Allergies in our beautiful, sweet, adorable long haired mini creme dachshund Mazy. We had tried everything, allergy shots, which was horrible, and did not work, allergy pills, elimination diets, which seemed to help some, but she would still get staph infections so then we would have to do rounds of antibiotics, sometimes she would get so inflamed we would have to do steroids to calm down her immune system.

She was just constantly itching, and scratching and her little face seemed so sad. Her ears would get infected, she lost her hair on her chest, and she would get these weird black spots on her stomach, and arm area. She was just so uncomfortable, she would scratch all night and all day.
She was on steroids and I know the steroids are really bad for them. So on New Years Day I came across a flier for Dr. Khalsa's book from a local family owned Pet Store, and it said "Itchy, Scratchy Dog?"A holistic way to heal allergies… So I found Dr. Khalsa on the Web…. and Yay!  She does consultations!  A friend of mine had been to her as well, and said she was AMAZING! So lucky us, Dr. Khalsa has totally turned Mazy around!
She said it was Malassezia, a yeast infection that can happen when a dog has allergies.
She told me what shampoo and rinse to get to get rid of it, and then she sent me the vials for this wonderful Treatment called NAET…..with instructions to follow, and it was amazing…..and Mazy really enjoyed the NAET.
Plus Dr. Khalsa has a video on You Tube on how to do it.
I cannot believe the results! We have one Happy, Healthy, Itch Free Dachshund!
We are so Happy!!!!  Thank you so Much!
So Sincerely,
Darcy and Mazy Nopper and our whole family!